Ensemble Vocal Improvisation
Building skills to become a versatile singer
in any situation - with Bob Stoloff
Sept 26-30, 2019 Perugia
Bob's comprehensive workshop will give singers the skills to hear and understand the music they are singing!  
Develop rhythmic, melodic, harmonic and stylistic skills so you can quickly contribute to any singing situation with confidence. 
Workshop Description
A contemporary singer is asked to do many things. Of course, singing solos is important- and the skills you learn in this workshop can support your solo singing-especially if you improvise. But even if you do not improvise - having the opportunity to isolate musical elements and practice them with Bob - this will make you a better singer in all styles -in all settings.
Sing every day - all day to develop your own library full of new vocabulary, articulations, rhythmic grooves, bass lines, and harmonic options so when asked to be part of a circle singing event, or asked to be part of a backup group, or invited to sing harmonies with a duo partner, or given the nod with the band to take a solo break you will be able to sing with joy and confidence.
Every singer wants to have something beautiful to offer. This takes practice.
Bob will teach you how to transform rhythmic ideas into melodic phrases by adding pitches to your own improvised rhythms. Everyone will benefit from an opportunity to practice with Bob's guidance and expertise.  Participants will enjoy singing to a variety of contemporary grooves including R&B, Funk, Swunk (swing 16ths), Latin, Reggae and Fusion.
Workshop Schedule
Sept 26:  Arrival: & welcome dinner
Sept 27-29: Workshop sessions
           (6 hrs each day)
Sept 30: Departure after breakfast
Tuition
$1100 includes all meals, lodging, and all workshop sessions.
Ground transportation to and from Perugia included.
This fee is based on double occupancy;  there is a $200 surcharge for private rooms, available first-come first-served.
Bob Stoloff is at the top of my list as a vocal improvisation teacher. A true master.     


Roseanna Vitro, JAZZ TIMES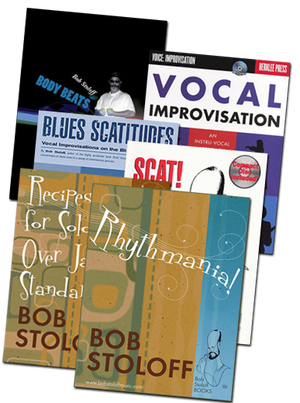 There is hardly anyone in the whole world who knows more about scat singing than Bob Stoloff...he takes out the terror! 
Mark Murphy 
Clear, cutting edge and comprehensive, Bob is truly revolutionizing vocal jazz education with his "Instru-Vocal" approach. His method is a powerful educational tool for jazz singers on the path to becoming well rounded and deeply evolved musicians. Bob's workshop successfully combines vocal practice with theory, ear training, intensive rhythmic work, instrumental concepts, and is fantastically helpful for jazz singers! 
Michele Weir 
Bob's approach is a treasure trove of accessible and practical information for anyone interested in the art of scat singing. Singers at all levels will be lucky to have Bob as their oracle. I've always been a big fan!
Peter Eldridge, New York Voices